Grand Junction Landscaping Services
Maple Leaf Landscaping + Maintenance is the local favorite for Grand Junction Landscaping Services. Maple Leaf offers landscaping services to both residential and commercial clients in the Grand Valley Area.
Grand Junction Residential Landscaping Services-Whether purchasing a brand new home with a blank canvas, or an existing landscape in need of some TLC we offer a variety of landscaping services to fit your needs.   We understand that creating or re-designing landscaping can be a undertaking.  Whether you are creating or re-designing your landscaping for resale purposes or just for your own enjoyment, we can offer great advice and insight on creating the look you desire.  Having a competent and reliable landscaping company can make a big difference in the the quality of work, and the overall experience.  We specialize in working hand in hand with you to accomplish the landscape of your dreams.
Grand Junction Commercial Landscaping Services-We are able to provide quality and experienced landscaping services to commercial customers in the Grand Valley Area.  We have the tools to handle any size of commercial landscaping needs, no matter how large or small.
Call us today for a free consultation on your landscaping needs.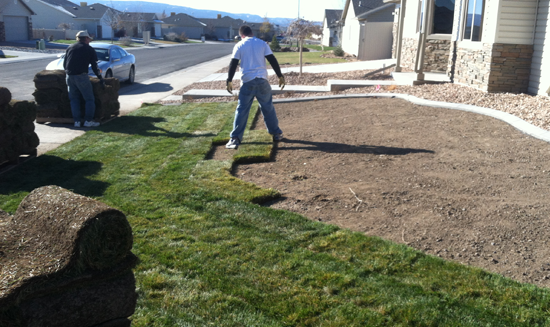 Full landscape installation of new construction build
Installation and re-design of existing landscaping
Installation of new plants & trees
Installation of sod
Hydro seeding & ground prep
Installation of boulder/brick retaining walls
Installation of decorative boulders & landscape berms
Installation of rock & commercial weed fabric
Construction & installation of raised garden beds
Installation of flagstone and engineered stone and pavers
Development & implementation of storm water management techniques
Installation of pond/water features
Installation of dry river beds
Pond and Water Feature Design and Installation